Exodus from NY: A Week of Charts
Employment, capital investment, Covid-19 and political markets
We flew back to New Jersey this week from non-quarantined Colorado on a full flight to finalize our exodus from the Tri-State area to Colorado. Our note this week will consistent of a series of charts and brief comments. We apologize for not releasing a full note. Next week, following the June employment report, we will release an outlook for the second half of 2020.
We sent this note to both our free signups and paid subscribers this week, please consider becoming a full subscriber if you are not already. Information can be found at this link.
I will be a participating in the Alternative Vision Conference, a virtual conference coming up on July 28 and 29 and presented by CalALTs (The California Alternative Investments Association), Connecticut Hedge Fund Association and the Texas Alternative Investment Association. Details and a registration link can be found here:
https://lnkd.in/dSDbNMW
Quick Trading Thoughts - Fade the Passive Funds
We would not give too much thought to the last two Friday selloffs. The most recent Friday (the 26th) the Russell indices rebalanced and the prior Friday was a larger than usual S&P index rebalance following S&P's decision to skip their March quarterly rebalance. For those unfamiliar with index rebalancing, generally the market cap of the names that need to be purchased by index funds are larger than the sells. To fund the mismatch indexers need to fund the purchases by selling a 'slice' of the index, this explains the weak closes on each Friday. Additionally, the strong relative performance of equities relative to debt this quarter implies rebalancing of strategic asset allocation targets by large indexed pension plans. The days of most of the trading being concentrated on the close of quarter-end, as was the case when we ran this business at Lehman Brothers, are gone. It gets spread over days, recall last quarter-end was expected to be a large buy and the market fell sharply that day. Our measures of risk sentiment and positioning model remains elevated, we expect the market to stabilize by month-end and would not be surprised if the market rallied sharply on Tuesday despite expectations of asset allocation related equity selling.
Here are a series of charts from last week covering the labor market, household savings, capital spending plans, a series of Covid-19 related charts and a couple on the political scene. We do not believe the increase in cases in the Sun Belt will derail the recovery and it is too early for the November election to have a persistent effect on the markets. We expect a strong employment report Thursday morning, however, if we are correct it will not be as much of a surprise. Still, we think the forecasts for payrolls are low relative to our 'back-to-work' proxy.
Figure 1: The spread between the cumulative increase in initial and continuing claims has increased by nearly 8 million since the week the Bureau of Labor Statistics conducted the May establishment survey. The insured unemployment rate has not fallen much this month implying the U3 unemployment rate did not either, however, the claims spread, which is our back-to-work proxy, implies another strong month for job creation. The forecast for Wednesday's ADP report is +2.95 million and +3.0 million for Thursday's BLS release. The Conference Board's labor differential on Tuesday should offer more information about unemployment.
Figure 2: The savings rate dropped 9% to 23.2% in May as spending primarily on goods rebounded. The recovery is likely to be led by autos and housing, as virtually all recessions, with the exception of the 2008/9 housing bust.
Figure 3: Spending on non-defense capital goods ex-aircraft rebounded in May as did 6-month forward capital spending plans from the regional Fed manufacturing surveys. We expect a strong second half for equipment spending, software investment is likely to be stronger still.
Figure 4: Flattening the curve never meant eradicating the disease, we doubt actual cases have increased relative to April when daily tests were ~150,000 given that more there were several days with greater than 500,000 tests recently.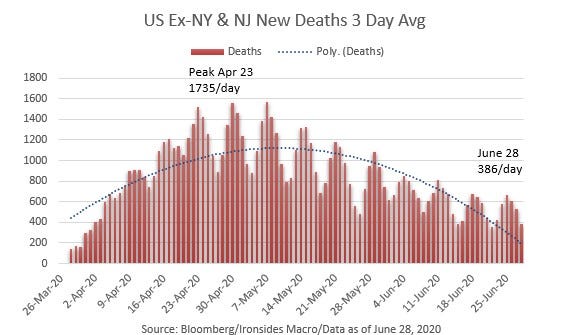 Figure 5: Treatments have improved, Florida reports the average age of a case has fallen from 65 in April to 33 in June. Here are links to studies that show a lower mortality rate and higher infection rate that supports the lower mortality rate thesis.
https://stm.sciencemag.org/content/early/2020/06/22/scitranslmed.abc1126
https://www.medrxiv.org/content/10.1101/2020.05.13.20101253v2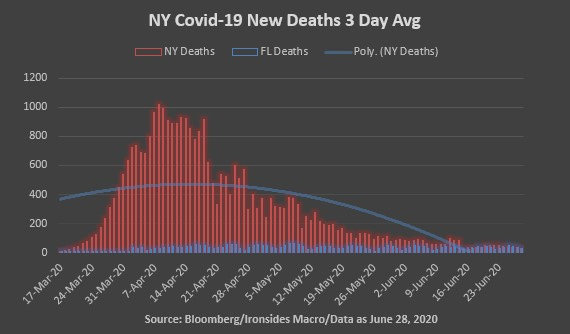 Figure 6: Florida's peak of 3-day average daily deaths was 67 on May 7, they are currently running at 31. New York peaked at 1016 on April 8 and is now at 32.
Figure 7: This is from the COVID Tracking Project website, it shows how much testing has increased. This is another element of the increase in cases in the sun belt.
Figure 8: Sweden had issues with nursing homes early in the process. We suspect Anders Tegnell is correct, much of the population was always likely to get infected. Flattening the curve does not eradicate the disease.
Figure 9: If there is a path forward for the President's reelection it is the economy according to a CNBC poll last week. The trend is definitely not his friend right now.
Figure 10: For many Americans tax policy the lens they view the candidates economic policies through. A platform of raising taxes when unemployment is likely to be significantly higher than a year ago is a vulnerability for the Democrats. Taxing your way out of debt is an exercise in futility.
Figure 11: Equity market measures of risk remain elevated, implying that net positioning remains short/underinvested.
Figure 12: Valuation remains expensive, however, in next week's outlook report we will explore the impact of technology innovation adoption into the consumer and healthcare sectors and what that means for peak earnings and margins in the '20s.
Barry C. Knapp
Managing Partner
Ironsides Macroeconomics LLC
908-821-7584
https://ironsidesmacro.substack.com
https://www.linkedin.com/in/barry-c-knapp/
@barryknapp
Reading List
Latest Book: "Trade Wars Are Class Wars", Matthew C. Klein & Michael Pettis
"Showdown at Gucci Gulch, Lawmakers, Lobbyists, and the Unlikely Triumph of Tax Reform", Jeffrey H. Birnbaum and Alan S. Murray
"A Great Leap Forward, 1930s Depression and US Economic Growth", Alexander J. Field
"1493, Uncovering the New World Columbus Created", Charles C. Mann
"Great Society, A New History", Amity Shlaes
"The Second Machine Age", Erik Brynjolofsson, Andrew McAfee
"Grand Pursuit, the Story of Economic Genius", Sylvia Nasar
"The Rise and Fall of the Great Powers", Paul Kennedy
"Capitalism in America, A History", Alan Greenspan & Adrian Woolridge
"Diversity Explosion, How New Racial Demographics are Remaking America", William H. Frey
"Clashing Over Commerce, A History of US Trade Policy", Douglas A. Irwin
"Destined for War, Can America and China Escape Thucydides's Trap", Graham Allison
"The Constitution of Liberty", F.A. Hayek
"Judgement in Moscow, Soviet Crimes and Western Complicity", Vladimir Bukovsky
"1931, Debt, Crisis and the Rise of Hitler", Tobias Straumann
My next book: "Nudge", Richard H. Thaler & Cass R. Sunstein
This institutional communication has been prepared by Ironsides Macroeconomics LLC ("Ironsides Macroeconomics") for your informational purposes only. This material is for illustration and discussion purposes only and are not intended to be, nor should they be construed as financial, legal, tax or investment advice and do not constitute an opinion or recommendation by Ironsides Macroeconomics. You should consult appropriate advisors concerning such matters. This material presents information through the date indicated, is only a guide to the author's current expectations and is subject to revision by the author, though the author is under no obligation to do so. This material may contain commentary on: broad-based indices; economic, political, or market conditions; particular types of securities; and/or technical analysis concerning the demand and supply for a sector, index or industry based on trading volume and price. The views expressed herein are solely those of the author. This material should not be construed as a recommendation, or advice or an offer or solicitation with respect to the purchase or sale of any investment. The information in this report is not intended to provide a basis on which you could make an investment decision on any particular security or its issuer. This material is for sophisticated investors only. This document is intended for the recipient only and is not for distribution to anyone else or to the general public.
Certain information has been provided by and/or is based on third party sources and, although such information is believed to be reliable, no representation is made is made with respect to the accuracy, completeness or timeliness of such information. This information may be subject to change without notice. Ironsides Macroeconomics undertakes no obligation to maintain or update this material based on subsequent information and events or to provide you with any additional or supplemental information or any update to or correction of the information contained herein. Ironsides Macroeconomics, its officers, employees, affiliates and partners shall not be liable to any person in any way whatsoever for any losses, costs, or claims for your reliance on this material. Nothing herein is, or shall be relied on as, a promise or representation as to future performance. PAST PERFORMANCE IS NOT INDICATIVE OF FUTURE RESULTS.
Opinions expressed in this material may differ or be contrary to opinions expressed, or actions taken, by Ironsides Macroeconomics or its affiliates, or their respective officers, directors, or employees. In addition, any opinions and assumptions expressed herein are made as of the date of this communication and are subject to change and/or withdrawal without notice. Ironsides Macroeconomics or its affiliates may have positions in financial instruments mentioned, may have acquired such positions at prices no longer available, and may have interests different from or adverse to your interests or inconsistent with the advice herein. Ironsides Macroeconomics or its affiliates may advise issuers of financial instruments mentioned. No liability is accepted by Ironsides Macroeconomics, its officers, employees, affiliates or partners for any losses that may arise from any use of the information contained herein.
Any financial instruments mentioned herein are speculative in nature and may involve risk to principal and interest. Any prices or levels shown are either historical or purely indicative. This material does not take into account the particular investment objectives or financial circumstances, objectives or needs of any specific investor, and are not intended as recommendations of particular securities, investment products, or other financial products or strategies to particular clients. Securities, investment products, other financial products or strategies discussed herein may not be suitable for all investors. The recipient of this report must make its own independent decisions regarding any securities, investment products or other financial products mentioned herein.
The material should not be provided to any person in a jurisdiction where its provision or use would be contrary to local laws, rules or regulations. This material is not to be reproduced or redistributed to any other person or published in whole or in part for any purpose absent the written consent of Ironsides Macroeconomics.
© 2020 Ironsides Macroeconomics LLC.